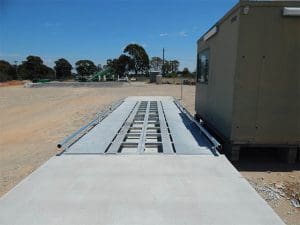 Portable Weighbridge Supplier – For Truck Scales That Can Move from One Site to Another, Use Weigh More Solutions as Your Portable Weighbridge Supplier in Australia
Portable Weighbridge Supplier: Do your business operations tend to move from site to site on a relatively frequent basis? For companies involved in construction, site remediation, demolition, logging, or other site-specific projects, temporary worksites are always a part of the narrative. Having portable gear and equipment keeps productivity and costs low. At Weigh More Solutions, we make the process easier by supplying portable weighbridges throughout Australia.
Getting a Reliable Portable Weighbridge Supplier
There is a reason that most weighbridge solutions are designed to be permanent installations rather than portable systems. Weighbridges are heavy. They are made up of large, unwieldy components. They come equipped with digital load cells that are easy to knock out of calibration over the course of a lengthy, bumpy move.
Still, operations that move from one job site to the next need a way to weigh their trucks, check capacities and check compliance with Australian standards. Weigh More Solutions answers that call of duty with reliable portable weighbridges.
Our portable weighbridges are modular, durable, and easy to install. They are flexible enough to suit multiple applications but simple enough in design that they won't have five-day installation timelines at every new site. In short, they are ideal for construction or demolition companies that need to be able to set up their worksites rapidly without sacrificing performance or reliability along the way.
Here are a few of the key features of our portable weighbridges in Australia:
Modular design:The modular design is the key feature of our portable weighbridges, and one of the big reasons that many clients continuously come to us when they need a portable weighbridge supplier. Because our weighbridges are modular, you can alter their sizes from one site to the next. This capability is useful if the client has weighing needs that vary a bit from project to project. The ability to change the size and shape of the weighbridge also allows for relatively easy shipping, site delivery, and assembly.
Galvanised structure:Weigh More Solutions designs each portable truck scale with galvanised materials. This sturdy construction prevents rust, corrosion, UV damage and other wear and tear that might befall the weighbridge during transit or out in the harsh Australian climate.
Installation flexibility:Most portable weighbridge suppliers only make aboveground systems that are portable. At Weigh More Solutions, our portable weighbridges are flexible enough to be installed as aboveground or pit-based truck scales. This versatility eases the relocation process and makes it easier to adapt the weighbridge to all different sites and situations.
All told, the installation process for our portable weighbridges in Australia has about a two-day turnaround.  For most projects, that's more than enough time to get settled and make sure everything is set up before work begins.
Make Weigh More Solutions Your Portable Weighbridge Supplier
If you need a portable weighbridge supplier in Australia, we hope you will consider Weigh More Solutions. Our truck scales are mobile, easy to install and reliable enough to help your team reach compliance. Call us on 1300 366 131 to learn more about these sophisticated systems or use the QUOTE Button at the top of this page to contact us. You can see some of our Portable weigh-Bridges HERE and you can read more general information about weighbridges HERE.